~~~
So you say you like retro?
Holy Moses in his Bathrobe, you are in luck! Betty Doyle of Ingenue, a good friend and well-known maker of first-class clothing and hair from the 1930s to the 1950s, has a lot of her way cool stuff on sale until the 14th of this month. Visit
http://slurl.com/secondlife/Lo%20Lo/200/115/21/
for the deals.
Pondering a purchase in the Ingenue main store on the Lo Lo sim:
Note that there is a "50%" off sign on the top of the vendor frame --
please keep in mind that not everything is on sale, so as you shop you
must look for this sign on each item to see if it is marked down or not.


Actually, Betty's sale is part of a sim-wide festival of savings on the Lo Lo sim where she has her main store. It isn't all retro on Lo Lo, but there are some great stores besides Betty's, including Carolyn's Jewelry, Mela's Skins and Shapes, Rose Petal Creations, A Piece of Candy, FD Decor, and My Precious Agnes Finney. Everybody is doing 50% off on

selected

items. And remember kids, that means

NOT EVERTHING IS ON SALE

.


So if you are a feckless goober and you don't see a 50% off sign on the item you want, but you buy it expecting a discount anyway thinking, "hey, maybe they forgot to put a sign on it," Do Not Come Crying to Me, cuz I will just tell you that you are in fact a feckless goober and I will have no sympathy for you. And don't go whinin' to the store owners either, cuz life is hard enough for those folks without you making big bambi eyes at them and all that.
So you want to see what I got for a grand total of 137 lindens?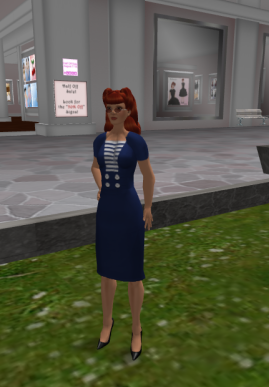 Here it is at right.
And yes, you heard me correctly. Only 137 lindens for the hair and really cute 1940s dress (not including the shoes and glasses -- those I already owned). The dress is called the "Miss Lizzy" in royal blue (87 linden). That kick-ass hair is called "The Grable" and cost me a whopping 50 linden.
Yeah. I know...50 linden for some super hair.
How often have you given someone more than 50 linden as a tip for some really marginal service, or bought a second rate product for more than that, just because you felt sorry for them and simply wanted to help save them from a life of degradation as a virtual escort working at Blingtard Bob's Lag-Storm Mega-club?
Seriously, I hope you guys will go check this out. Remember the sale is going on right now, until August 14.
~~~